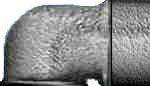 Water Jet Service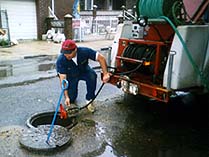 Because of land sediment, a lot of underground piping drops, causing bellies along the line. Rotary snakes open the stoppages, but because of the lack of water flow, they leave the large chunks of soap, grease and other debris into the bellies.
In some apartment buildings the sewers are 6 inches and larger and the only clean out to put the blades in are smaller in diameter, keeping us from entering the line with the right size blades. The hose on the water jet can enter a small opening and super clean a large sewer line.
By water jetting, not only does it open clogged sewers, but because of the high pressure coming from the jet nozzle it breaks down the soap buildup, grease, and other debris into small particles, and then, because of the continuous high volume of water flow coming from the water jet, it keeps the debris flowing right out of the sewer line. Also, the powerful water jet does an excellent job on large storm drains and catch basins. Please give us a call to discuss the benefits of the water jet.
Go to our Service Request Form.